Trojan @ Berlin Blochchain Week
During Berlin Blockchain WeekTrojan participated in several events, and organised some of our own:
Thursday August 22. Time: 17:30–19:30
Let's Talk About The Art Economy: DAOs & Finance 3.0 meet the Art World
Location: Upvest at Kleine Präsidentenstraße 1, Berlin
With the emergence of DAOs (Decentralised Autonomous Organizations) and the recent advancements in crypto-economics, we may be at the verge of a rapid shift in the way that cultural work is organised and financed. While blockchain offers a new artistic medium and new potentials for the regeneration of autonomous community-based artistic practices, it also raises entirely new sets of challenges. What impacts will blockchain technologies have for artists, activists, and cultural organizers seeking to create an art world less reliant on institutions and states, outside of the confines of the legacy systems?
We invited members of the local and visiting artistic communities, and blockchain researchers, with guests speakers from both fields, to take part in an open discussion on the relationships between art, community, and blockchain technologies, for debating, networking, and discussing ongoing projects!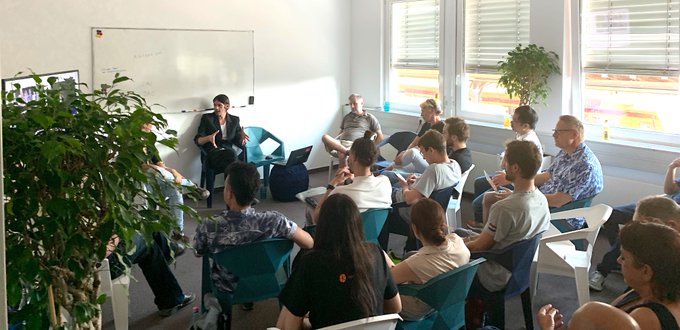 Participating in the panel talk:
Jeff Emmet
Jeff Emmett is a Token Engineering researcher, with a focus on cryptoeconomic primitives, such as Token Curated Registries and Bonding Curves. Working with Giveth, and the Commons Stack teams, he is helping to rethink the structure of charity in a decentralized world, and to forward the practice of Token Engineering for robust blockchain ecosystems.
Fanny Lakoubay
Fanny Lakoubay is a New-York-based communication and marketing specialist with 12+ years of experience in arttech and blockchain. She currently advises digital art and blockchain companies supporting living artists (Digital Art Council, Editional NFT creation app, CADAF digital art fair, New Art Academy, Rare Art Festival, Snark.art). She is also in charge of public relations for RadicalxChange foundation.
James Simbouras
Founder of C.A.S.A. and summoner of the Trojan DAO. As "artist as organizer" James Simbouras uses concepts taken from cymatics, the study of the interactions between sound and matter, as a metaphorical framework so as to discuss the relationship of communities to "ephemeral" social art-works/situations, and the shifting definitions of art and so-called art economy, emerging out of the urges and the inter-dependencies that is the Athenian context.
Raimar Stange
Raimar Stange is an art critic and curator based in Berlin, Germany. He contributes regularly for Kunst-Bulletin (Zurich), Camera Austria (Graz), ArtReview (London), artist (Bremen), artagenda, web, artmagazinecc/web; and curates shows on art and climate catastrophe, art and right-wing populism.
Stefan Roemer
Stefan Römer is a de-conceptual artist working with images, sounds and textes to overwork the terms of the artistic public space, the original and the intellectual interest (the economy of passions) in the field of art.
The event attendance tickets were also available as NFTs (non-fungible tokens) ithanks to our collaboration with Mintbase.
NFT tickets Mintbase:
https://mintbase.io/my-market/0xf97c23351dF358a25cbd89981D4e78e6eD985289/0x86Fd6Dd41Bad636b5b3b9228BC5642Fa0dF392e8
EthBerlin Culture Room
Trojan participated in ETHBerlin! - August 23-25, at Factory Berlin, Görlitzer Park.
https://trojandao.discoursehosting.net/uploads/db2677/original/1X/38ddb501663898057bd2084eacbc6f089e48ce91.png
We were honored to be part of the culture room exhibition, exhibiting material from the Academy Gardens project.
We presented the Trojan DAO and a Q+A at the EthBerlin talks:
Conversations on Art+Blockchain
on August 24th.

The Culture Room displayied works from the following artists:
Burak Arikan, Esther Babb, Adrian Le Bas, Sarah Friend & Arkadiy Kukarkin, Hack6C, HEX0x6C, ilan katin, Meghan Rose, Trojan DAO, Joulia Strauss, Billy Rennekamp, Casilda Sanchez
Alongside the Culture Room art display and new to this year,there was also hosted conversations from leading creators and visionaries on how blockchain is reshaping our connection to art.
Agenda
1.00 pm: Doors open
1.30-2.30: The Artworld DAO Think Tank - The Machine that Eats the Artworld for Lunch with Ruth Catlow and Penny Rafferty
2.30-3.00pm: Artist Spotlight: Sarah Friend + Q&A
3.00 - 3.30pm: Artist Spotlight: Ilan Kitan + Q&A
3.30 - 4.00pm: Artist Spotlight: Trojan DAO + Q&A
4.00 - 4.30pm: Wrap up and final questions
5.00 pm: Doors close
Further information about each session is below:
The Artworld DAO Think Tank - The Machine that Eats the Artworld for Lunch
A presentation and open conversation with Penny Rafferty and Ruth Catlow
The intensive commodification of art over the last five decades has been accompanied by the hyper-individualization and beggering of artists on the ground in even the world's wealthiest countries. DAOs now allow people to exchange economic value, to pool resources and form joint-ventures, without control from the centre; to enjoy the benefits (or otherwise) of the shared activity in the future. DAOs provide both the technical underpinnings and the context for reimagining a full re-constellation of stakeholders for radical imagination and other possible art worlds.
Artists Ruth Catlow and Penny Raffety will host an open conversation about their recent Artworld DAO think tank, a 52 hour immersive event employing technical talk, political discussion and uncanny working methods to create pathways to collective arts production, tools, capacities, resources, resistance and solidarity.
"We believe that by engaging with these spaces collectively we will strengthen and build quicker and better models for the future DAOs and hopefully make them a reality for all."
Artist Spotlight: Sarah Friend
Sarah Friend is an artist and software engineer, with special interest in blockchain and the p2p web. She is a proud Recurse Centre alum, and is one of the organizers of Our Networks, a conference on all aspects of the distributed web in Toronto.
Her work on display at EthBerlin, Remembering Network, highlights the theme of global biodiversity loss, finding that it is in unprecedented decline as a result of human activities. Remembering Network explores preserving and rebuilding our world through bearing witness to the losses that came from our past carelessness.
Artist Spotlight: ilan katin
ilan katin is a Berlin based artist who currently makes non-figurative drawings, occasionally collaborates with musicians doing live visual performances, and sometimes ventures into the creation of installations.
ilan's work at EthBerlin, FUTUTERUS, forces you to stand on the precipice between an as of yet unchanged world and a civilisation devoid of the pains and discomforts of organic matter. This is a universe saturated with human intelligence as a form of energy that leaves behind the inconvenience of its creators. We will no longer have babies. The entire system of reproduction will be based upon blockchain technology.
Artist Spotlight: Trojan DAO
Trojan DAO represents a radical experiment in decentralised cultural organization.
The Trojan Foundation is built as a collective vehicle that seeks to act beyond the restrictions of the institutional "art world", leveraging blockchain technology and smart contracts so as to radically re-imagine what a cultural organization is, how it operates, and how it can be participated in. The Trojan DAO is an organization as a distributed art-work, an indeterminate and ever-evolving organism, a social sculpture to be co-shaped through the contribution of multiple participants.
Event info: https://www.eventbrite.com/e/conversations-on-artblockchain-tickets-69278912091?ref=eios&fbclid=IwAR0EjD1iyJjwz-0btRawqy9Ggn9gPSI9U08oltVJilCcTkncja6UrJ5efBQ