Become a Trojan Patron by Pledging funds (Tribute) and participate in Trojan DAO's "Art Offering"
You can become a Trojan Patron by pledging tribute (donation) in ETH to the Guild Bank, that is redeemable for voting shares in the DAO.
What you will Receive:
A number of voting shares in the DAO of the same value as the amount offered as tribute, to participate in governance over distribution of grant funds.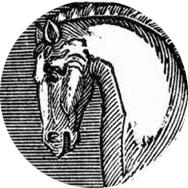 A limited edition NFT Trojan Patron badge —to participate in Trojan's "Art Offering"!
Become a Trojan Patron to collect commissioned artworks, and other collectibles from projects participating in Trojan DAO, in the form of NFT drops. NFTs are much more than tradeable assets that live on the blockchain. For both creators and communities, NFTs are inherently collaborative and social experiences; they are about telling unique stories and inviting others to take part in them. NFTs offer the potential to become gateways into immersive experiences and offer front-row seats to creative journeys.
Patrons remain in control of their contributed funds right up to the moment that they are distributed. Patrons can withdraw their donation at any time if they do not agree with a decision made by the DAO concerning the distribution of funds, using the "Rage-quit" feature.
Would you like to become a Patron member of Trojan? Follow these steps:
Login to web3 (the DAO interface currently enables log in through Metamask or WalletConnect)

In web3 login, click wETH Center

If you don't have wETH, wrap it!

Enter the amount of wETH that you are tributing. To become a Patron Trojan requests that you make a minimum sacrifice of 3wETH.
Wait for the transaction confirmation

Fill in the Patron Pledging form or make a post in the Patron Pledging forum thread, announcing your pledge!
You may include the following information:
Name or pseudonym
The Ethereum address that you made your pledge from*
The amount of wETH that you pledged*
Telegram username / contact details; Let us know how to reach you!
What is your vision for Trojan DAO?
What excites you the most about art and blockchain?
What kinds of projects do you want to see get funded?
Are there any other ways you would like to contribute to Trojan DAO beyond funding?
When will I receive my Trojan DAO shares?
Your pledge to join as Patron will then be sent to the Trojan DAO, where it goes through a 7 day voting period, followed by a 7 day grace period. After your pledge has been processed, you will receive your requested voting shares to participate in the governance of the Trojan DAO, along with your limited edition Trojan Patron NFT badge.
From that point onwards, if you decide to withdraw your patronage at any time, you are able to ragequit those shares from the DAO and get your unused funds back.
Have a question? Feel free to tweet or message us on twitter

Trojan appreciates your tribute!